Archive for 'Fleshlight Types'
Are you ready for the hard ride? Yes? You have to try this new Succu Dry fleshlight with fangs. This new Fleshlight has been released for Halloween 2009. Succu Dry Fleshlight is the newest addition to a Sex in a Can line. It is the world's first vampire inspired sex toy. Succu Dry's exclusive Vampire fangs are entry to a tottaly new sleeve that bites - it is called "The Fang"! Also it has got unique undead pale sleeve color. It is made of course from the same patented Real Feel Super Skin material like every fleshlight. It is promoted by the really hard girl - Masuimi Max.
I'm sure you wonder who the Masuimi Max is? This half American half Korean girl is fetish model, makeup artist and burlesque performer. She is known for her extraordinary tattoos and for her fetish loving preferences. Max is also spokesmodel for Pinup Girl Clothing company. She has appeared in plenty of of magazines and photoshoots, as well as music videos. Masuimi also works with her favorite company that produces corsets - US, 'Jupiter Moon 3 Corsets' she loves also Morgana Femme Couture corsets. She loves corsets. At this time Masuimi Max together with ILF released Succu Dry Fleshlight. If you want to try some hard fucking and biting, don't wait and buy Succu Dry Fleshlight before it will be to late!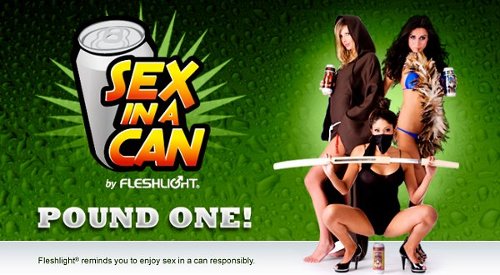 If you like beer as much as sex, on fleshlight.com new offer is waiting for you. Fleshlight producer created something special for stealth fleshlight sex lovers. ILF Inc., the Fleshlight producer has refreshed the old idea of beer can fleshlights, it's called Sex in a Can. If you are an experienced fleshlight user you will remember the old sex in a can collection. Comparing the older versions with the new Fleshlight Sex in Can the differences are crucial. The old sex in a can had only original texture available. Only difference between them was the sleeve color ( the best was chocolate - forgotten color ;). Now ILF has designed completely new Sex in a Can Fleshlights completely new sleeves. The stealth idea remain the same. When you're not using your fleshlight, just hide and transfer it into a beer can. The beer can is not drawing anybody's attention. The Sex In a Can Sleeves are just the mini versions of the most popular fleshlight sleeves - Vortex, Speed Bump and Lotus. In Sex in a Can offer there are available three terrific product - Pink Lotus Lager, Abbey's Secret Ale and Spread Eagle Brew. Each "beer can" has got unique texture and entry.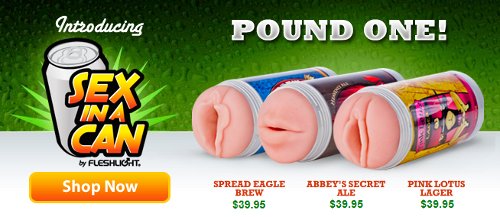 Pink Lotus Lager has got the mini lotus sleeve. I think it's the best sleeve ever;) Pink Lotus Lager has got the pink Lady entry and appearance of a samurai Japanese girl. The Abbey's Secret Ale reminds me the Belgian babe who loves to suck cock. Inside Abbey's secret there is mini speed bump sleeve and mouth orifice. The third Fleshlight Sex in a Can is a Spread Eagle Brew. Personally I think that there aren't a better thing after a hard days at work than to get inside into a fully Spreaded Eagle Brew. Eagle Brew has got totally new wide Lady entry and mini-Vortex sleeve texture. All those three sex toys has got unique can vinyls, so be sure to collect them all. There's no better thing waking up with the "morning wood" than to give some love to your sex can, isn't it?
I want to present you the latest edition of Fleshlight sex toys - it's called The Fleshlight Vibro™. This is the totally new generation of popular fleshlight. This new sex toy provides a totally new vibrating sensation that no other toy can give you. How Fleshlight Vibro works? There are new designed sleeve's pockets prepared to insert special bullets that vibrates. You can put maximum three bullets inside each sleeve - you decides how intense your sensation will be. Putting only one vibrating bullets the sensation will be very delicate, putting three of them, it will blow your mind. Bullet holsters are placed on the back face of each sleeve. All the Fleshlight Vibro sleeves are made from patented Real Feel Superskin known from the earlier fleshlight sleeves. The Vibro edition is available with the 3 types of sleeves - "Original" Fleshlight inner texture or with one of two totally new inner textures, The "Touch" and the "Cyclone" fleshlight sleeves. They where specially designed to this new Fleshlight line.
| | | |
| --- | --- | --- |
| | | |
| The Fleshlight Vibro™ is available with the most popular sleeve ever - Original Fleshlight Sleeve, which was modified to provide vibrating sensation. Its smooth, soft canal really gets kicked up with powerful vibrations, allowing you to enjoy the experience with both intensity and comfort. | Cyclone is the next specially designed sleeve to provide vibrating sensations. Cyclone Fleshlight Sleeve is made of spiraling rings all the sleeve's length. It has got the diameter difference - it gets tighter the deeper you thrust. Cyclone provides very powerful vibrations and the most intensive texture. I think that this sleeve can give the highest intense level of sensation. | Touch is an exclusive texture which was created to bring all the vibrations to a specially designed pleasure fingers that are placed along the whole length of this vibrating sleeve. Touch Fleshlight Sleeve as every vibrating sleeve is made of Real Feel Superskin, that imitates woman vagina interior. I can assure you that, the sensation provided by the Touch sleeve can be unforgettable. |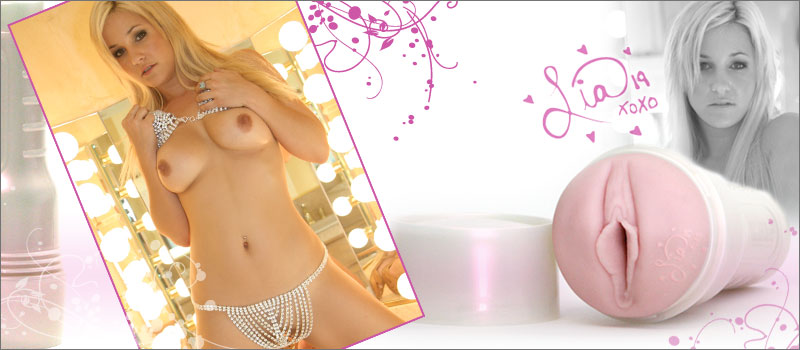 Fleshlight.com and the Lia 19, a very young internet starlet are honored to present you the next addition to Fleshlight Girls line - Lia 19 Fleshlight for only $79.90. Lia 19 lives in Arizona, attends one of the universities. She became popular through her own paysite. Lia 19 is one of the most beautiful Internet chicks with such a naughty bi-sexual character, you'll love it. This hot babe is a definitely candidate for the best porn star in the future. Lia always wanted to be a model. Her career grows like a real star in the world of sex toys, pictures and videos. All her spare time is full of modeling, castings and sometimes photo sessions. She was chosen to promote a sex toy with her own signature on it. Lia19 Fleshlight was created from Lia's actual vagina. Every product looks exactly like Lia's 19 tight pussy. All Fleshlight Girls products including Lia 19 Fleshlight contains the most realistic Fleshlight insert ever - the Lotus. It offers something that no other male sex toy in the world can give - the real vaginal intercourse sensation. Lotus gives you maximum of realism with a special inverted node and four pleasure chambers making this insert very unique in sexual desires. To maximize your feeling each Fleshlight Girls product is made from special RealFeel material called SuperSkin. I'm sure you won't feel the difference with the real pussy. Here is the picture which shows precisely how this SuperSkin Lotus Fleshlight Sleeve looks like: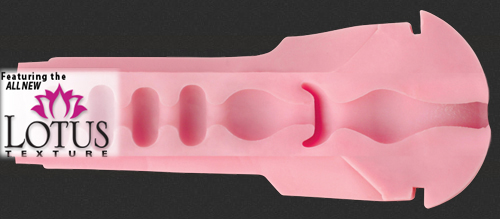 Every Fleshlight is molded especially from lia 19 actual pussy and it contains the most realistic insert - the Lotus sleeve. Lotus fleshlight sleeve was created to provide the most realistic vaginal intercourse sensations. Each Girls' Fleshlight includes an exclusive Pearlescent Fleshlight Case also. What's more Fleshlight.com gives you also autographed postcard featuring lia 19 and 2 oz bottle of Gun Oil H2O, water-based personal lubricant to maximize your desires.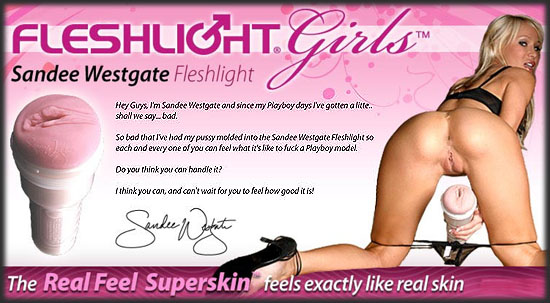 Sandee Westgate is well known from her appearances in plenty of xxx movies. She has got a photo sessions in famous magazines like Playboy, Hustler and Club. Sandee was even chosen for a Playboy's Cyber Girl and a Hustler Honey of the Month. Now with Fleshlight.com, this hot porn star gives you opportunity to buy the hottest sex toy ever released - Sandee Westgate Fleshlight. To maximize your feeling each Sandee Westgate's Fleshlight is produced from special RealFeel material called SuperSkin, I'm sure you won't feel the difference comparing with the real pussy. The inside feelings are exact like Sandee's vagina - this sensation provides you the new Lotus Fleshlight Sleeve. It gives you maximum of realism with a special inverted node and four pleasure chambers making this insert very unique in sexual desires. Lotus fleshlight sleeve was created to provide the most realistic vaginal intercourse sensations. You can order Sandee Westgate Fleshlight by clicking on our banner. This wonderful sex toy can be yours for only $79,95. That's how this new revolutionary Lotus Fleshlight Sleeve looks like: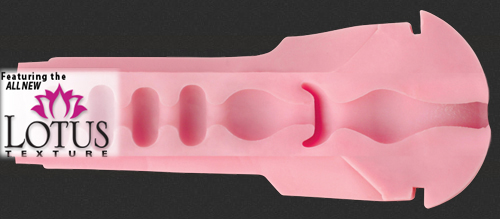 This Fleshlight is molded from Sandee Westgate's real pussy and it contains the most realistic Fleshlight insert - the Lotus inner texture. With each Fleshlight product you'll get a fantastic Pearlescent Fleshlight Case, offered only with each Fleshlight Girls products line. What's more you'll get an autographed postcard featuring Sandee Westgate and a free 2 oz bottle of water-based personal lubricant - Gun Oil H2O.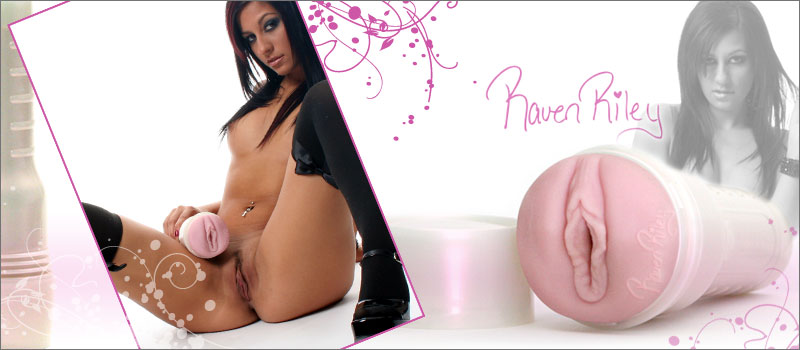 Fleshlight.com is honored to present you the hottest adult internet star of last times, Raven Riley. Raven is really pleased to offer you an exclusive, her own, Raven Riley Fleshlight. Raven Riley is a professional 22 year old model, actress and xxx producer. She was born on 1986 in Arizona. Her mother is an Italian and father is a Native American. Thats why her beauty is so unique. Raven has always wanted to be a star. Now she's one of eight most beautiful sex models chosen by fleshlight. Raven Riley fleshlight looks and feels exectly like her real pussy… it was created from special Real Feel material called SuperSkin. This Raven Rivley's fleshlight that simulates her hot pussy was created by an artist-designer from a real pussy look.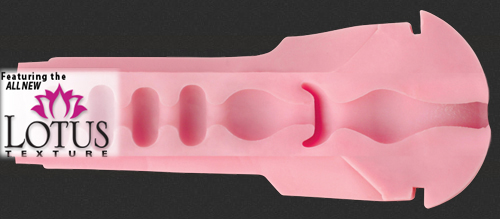 Every Fleshlight Masturbation Sleeve is especially molded from Raven Rivley's actual pussy and it contains the most realistic insert - the Lotus sleeve. Lotus fleshlight sleeve was created to provide the most realistic vaginal intercourse sensations. Every Fleshlight Girls product also includes an exclusive Pearlescent Fleshlight Case. Fleshlight.com gives you also autographed postcard featuring Raven Rivley and 2 oz bottle of Gun Oil H2O, water-based personal lubricant, totally for free.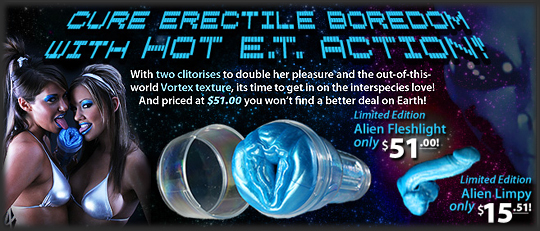 Fleshlight.com got something special for people who love a bit different kind of fleshlight sex. Untill now the most freaky sex toy was Ice Fleshlight with its transparent material. However if you're bored having sex with ice fleshlight, now's the fantastic opportunity to try something really freaky - Alien Fleshlight. Do you think you can satisfy this alien babe from beyond the galaxy? This Alien Fleshlight is a being out of this world, worth of every sci-fi scenario. This alien fleshlight creation keeps inside a sensational Vortex texture that provide amazing suction experiences. The Alien Fleshlight is more than just a funny thing, this limited edition sex toy will give you most desirable Alien Fleshlight sex from another world. I can assure you - it will blow your mind. Because this fleshlight sex toy was founded in the area 51 the price of $51 fits perfectly to the situation. More of that this Alien fleshlight is sold with the ILF customers' most favourite clear fleshlight case. I can guarantee, you won't find a better Fleshlight deal anywhere in the universe.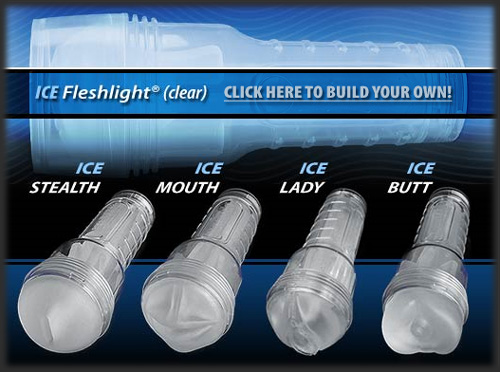 If you're bored with all the ordinary fleshlights. If you're looking for something new, that will give you the new sensations with the old feeling? Yes? So we've got something special. We want to present you the new RealFeel material without any color - it's transparent - the alternative to pink and mocha dyes. Have you ever heard about the new NASA space material called AeroGel? These Ice fleshlights looks exactly like made of frozen air. These new ice toys are really amazing, dedicated for people who think that usual fleshlights are not giving them enough pleasure. These sex toys will give you an another level of sexual experience. As you can see, the most significant difference between Ice Fleshlights and the other ones is its clearness and transparency that provides you an unique sensation. A transparent insert gives you a perfect view. Of course the gel used to produce ice sleeves is the same SuperSkin material from other fleshlights. Ice Fleshlight will give you the same feeling as the old ones but with new experiences. Your partner will love it. Ice Fleshlights are available in six different textures. Each insert is carefully molded to offer you a maximum level of intensity and the highest quality sensation - as points the Fleshlight signature in it.

As you explore each sleeve, you'll begin to appreciate the differences between them. Each of these fleshlights offers you an amazing sexual stimulation and the highest level of excitement for you and your partner. Lot's of people who are using these Ice toys, describes them as the best masturbation toys they've ever played with. Simply choose a masturbation sleeve and order your Fleshlight today by clicking the link. Of course to every ordered toy, the Clear Fleshlight Case is attached.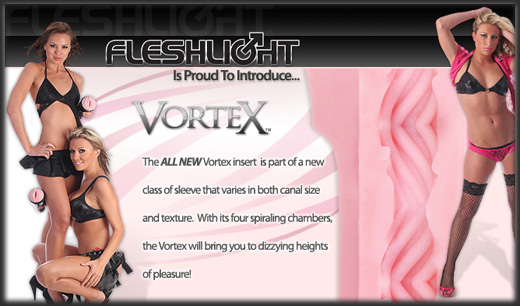 Last time I was reviewing a Vortex fleshlight sleeve as soon as it was appeared. There were available only two types of it - Ice mouth and Pink lady. Now the Fleshlight.com enlarged their offer and there are available 8 different types - all 4 orifices in both pink and ice (clear) material.
You can buy fleshlight vortex sleeve with following entries:
I wrote you already that if you want to buy fleshlight for a pro, the best choice will be The Vortex Fleshlight Sleeve because it provides very intensive pleasure. It has been designed in a totally new way - the spiral stair type texture, four chambers with diameter differences. These chambers with changing diameter gives you new suction feeling effect which is incredibly outstanding. When I put my penis into this new sleeve, for the first time, I knew it is the best sleeve ever produced. So if you're looking for something intensive - you have to buy Vortex Fleshlight Sleeve immediately. You have to remember that the vortex is available without Fleshlight Case, so if you want to buy any, just click here. Generally speaking The Vortex Sleeve is the most intense fleshlight texture so far. If you buy fleshlight with Vortex Sleeve, you won't be disappointed, I can assure you that!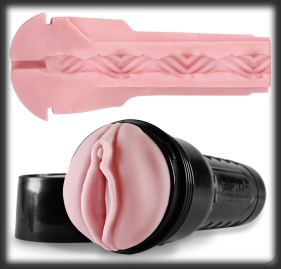 The Time has come. Fleshlight.com has got an honor to present the latest revolution in Fleshlight Sleeves technology. This week Fleshlight inc. has released a brand new sleeve - The Vortex.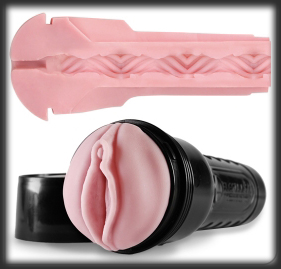 Vortex Fleshlight Sleeve is a brand new sleeve construction way. Vortex insert texture is a connection of revolutionary project and newest casting technology. This is the first texture of a new super sleeves class that provides completely new sensations. Vortex is not only a stimulating texture but it also contains the revolutionary differences in canal diameter. This new Fleshlight sleeve with four spiraled chambers of new Vortex will give you an incredibly fantastic pleasure. This insert was designed to satisfy you with a mesmerizing combination of suction, texture and an unprecedented squeeze as you pass through every each variety of diameters. Vortex has been already ranked as one of Fleshlight's most pleasurable inserts. If you are new Fleshlight user or experienced lover of Fleshlight sensations, you have to remember that this new sleeve will tremble all your desires, that it can't be forgotten…
For now the Vortex is available in two types - Ice Mouth and Pink Lady. More options will be available soon: