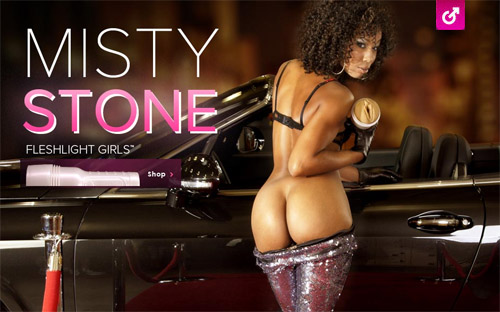 Today I woke up, look at my Fleshlight Girls complete collection and I thought - it would be nice to have brand now sex toy from ILF. I opened an Internet and BANG!!! Misty Stone Fleshlight is meant to be ready. I couldn't believe my eyes. First I read all the interviews with Misty Stone and watched FABULOUS movie on Fleshlife blog…. honestly it kicks ass - you need to watch it (blog.fleshlight.com). Reading all those reviews, about Bump n Grind sleeve, one thought run through my mind - This new Misty Stone Fleshlight is more than wonderful… it's ingenious. I ordered new Misty Stone sex toy immediately, straight from fleshlight girls site. The package has arrived the next day. I opened the box and took off the hot caramel sex toy with Bump N Grind insert. After that found some Misty Stone Porn in the Internet. Fucking Misty will be more realistic to set a "Mistic porn" on my LG TV 50″. So all is set - I need to put some Fleshlube Ice on it and let's Ride

Wow…. it's incredible… the sensations are amazing…especially when you're doing some little twists. Inside there are two connected Vortex inserts that were designed for rotating action. Misty Stone took her panties off and I was gone in 60 seconds…. the impressions were fantastic. Misty Stone Fleshlight got 10/10 by Katpher.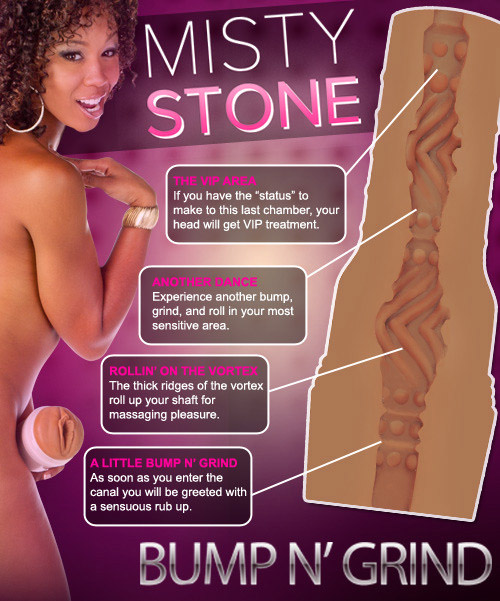 Misty Stone Fleshlight is available in four types with different textures and orifices all in new caramel sleeve color. Lotus texture with fleshlight Lady entry are the most popular Fleshlight Girls set. More you have Swallow texture with mouth entry, using this set you'll feel like Misty Stone doing you a blowjob. Another type is forbidden sleeve with fleshlight butt orifice - having this one will simulates hot anal sex with Misty Stone - unforgettable feeling. But there is something more - the hottest fleshlight sleeve I ever fucked… Bump N Grind. As you see the whole Bump N Grind Fleshlight Sleeve contains four areas. At the start you will be tickled with a line of several ribs and bumps. Then let's Rollin' on the Vortex - The tick ridges of the vortex roll up your shaft for massaging pleasure. Then you go through Another Dance sector when you can experience another ribs and bump so grind and roll in your most sensitive area. An the last One - The VIP area - If you have long enough dick to make to this last chamber, your penis will have the VIP treatment.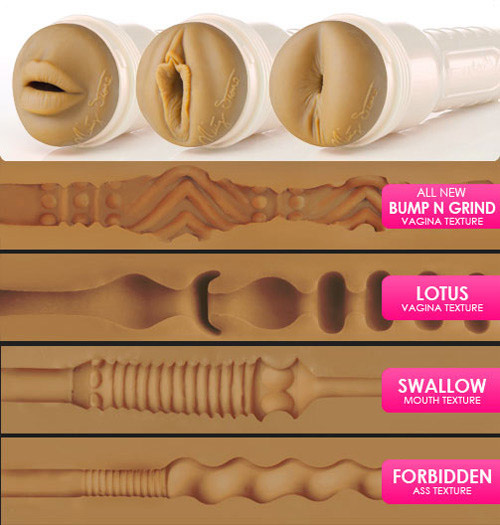 This Misty Stone Fleshlight is molded from her own pussy and it contains Misty Stone's signature on it. With each Fleshlight product you'll get a fantastic Pearlescent Fleshlight Case, offered only with each Fleshlight Girls products line. What's more you'll get an autographed postcard featuring Misty Stone and a free 2 oz bottle of water-based personal lubricant - Gun Oil H2O.